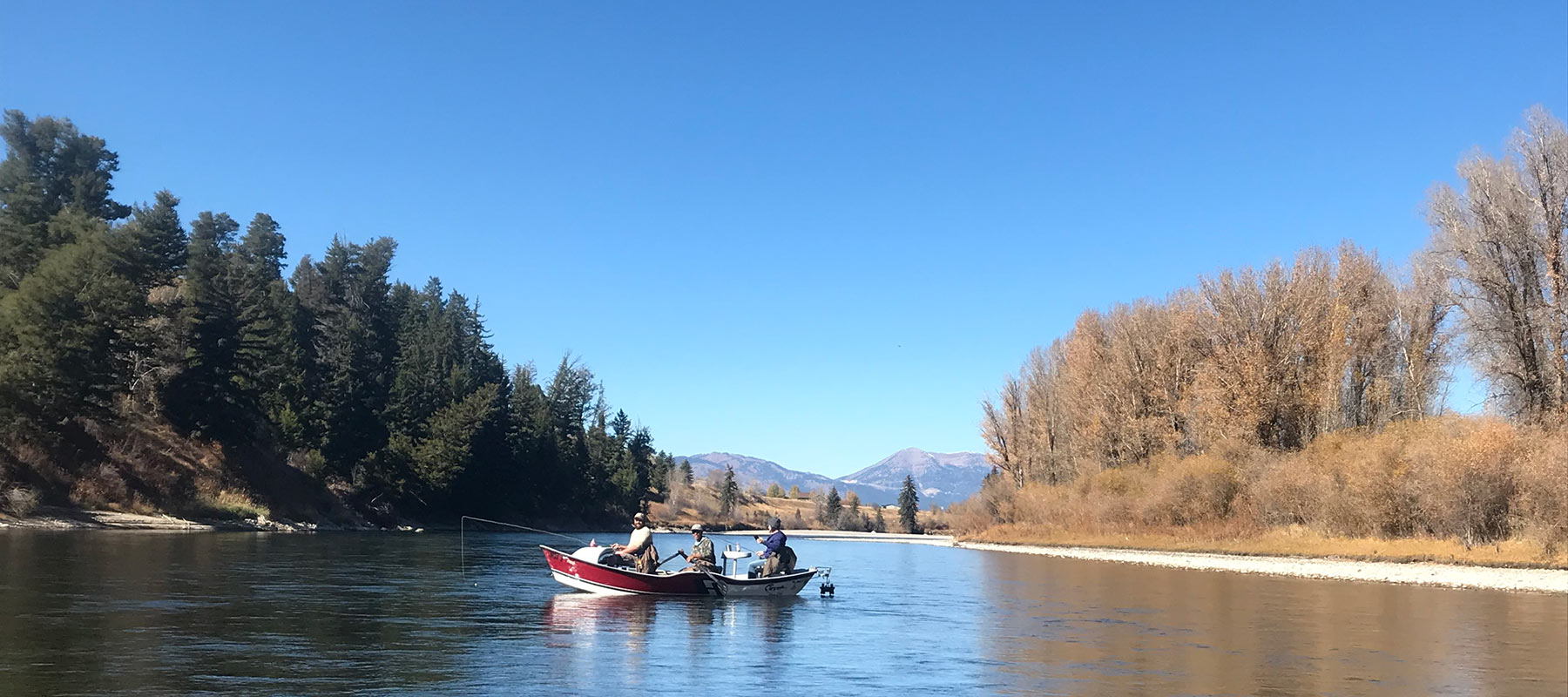 Testimonials
From clients...
A must-do experience — fish and so much more!
Our family had an absolutely wonderful experience on our half-day fishing trip with Chad. We started catching trout immediately and continued throughout the trip. Also, we had amazing wildlife sightings including eagles, mergansers, a marmot and white pelicans. Chad was so good with my son — he had the best time and couldn't stop smiling. Thank you!
Angela M.
Mangis Fishing Guides — THE BEST!
Our fly fishing experience was amazing with both Tom and Ralph. Tom took so much time both fly fishing and casting with our grandson and gave him amazing memories. My husband continues to dream about going back to fly fish with them. These guides are such skilled fisherman, have patience extraordinaire, and you know you are fly fishing with the best.
Don't miss the opportunity to fish with this company — we recommend them wholeheartedly. We caught many fish and the joy we all felt was marvelous while learning to be better at this beautiful way to fish. Thank you for such a fantastic experience.
David, Hope and Grant
A great experience!
My wife and I highly recommend Mangis Fishing Guides out of Jackson, WY. Our guide Tyler Staal did an excellent job expanding our knowledge of fly fishing and spin casting as he guided our boat down the renowned Snake River. He could not have been a more pleasant guy to spend time with and was genuinely excited for us as we pulled in cutthroat trout.
Larry was great!
For my first time ever guided fishing trip with minimal fishing experience, Larry did an AMAZING job guiding us yesterday on the Snake River! He put us on over 50 fish and was very helpful and informative throughout the entire trip! The trip was hassle-free and a great way to try something new in such a beautiful place!
We had the best 8 hours of our entire three-week vacation with Jake on the Snake River!
We caught over 42 fish! Jake was incredibly knowledgeable, professional and personable. We have recommended him to our family and friends. Totally an awesome experience! Would love to do it again.
Spoopy D, Cincinnati
Ralph was awesome!
Ralph guided us down the Snake River, gave us good tips on where to cast, talked about fly vs. spin fishing, and was an all-around cool guy. I usually don't like fishing but our trip with Ralph made me reconsider. 10/10— I will fish again.
Lisa Gaston, Nashville
Our guide Tom was world class — an amazing experience not to be missed!
Tom's knowledge of the river was invaluable. This was our first time fly fishing from a boat and Tom made the experience so fun and memorable. And we caught a lot of fish!
Great May Day on the Snake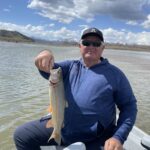 Two of us were out fishing with Jake today on the beautiful mountain sights of the Snake River in his Hyde drift boat for an all day trip. Weather was mostly sunny – cool this morning and near 60 by the afternoon. Jake knew the river very well and we caught fish everywhere he stopped, even though the river was a bit cloudy with the spring runoff. We caught about 50 cutthroat trout between the two of us, several fish between 14" – 17". Really a great day of memories. We can't say enough about Jake – a very capable and friendly guide.
Lyman & Kurt
Day trip with Larry
We fished with Larry 7/6/23. He picked us up at 7:30. He is a great person and loves what he does. He is so knowledgeable at his job. The day went by way to fast. We will definitely come back to see Larry again. We had Jake in the winter for snow mobile trip. Awesome people. Thank you guys
Robert Ryan
Trip of LIFETIME!!
There is not enough space to tell it all but it was absolutely perfect and amazing beyond words!! Dylan was the absolute BEST!! We saw eagles, geese, and other critters . We caught 12 fish between two of us and yes I closed us out with an 18". What a fine day, hats off to you guys!! We will always return to you guys, my deepest thanks‼️
Cynthia Cam Bearden
Fishing with Larry – Time Well Spent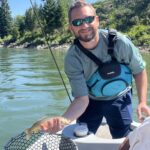 My wife and I spent the whole day fishing and hanging out with Larry. He took us down the Snake River. Larry was very patient with us out-of-towners and took the time to show us how to cast and catch fish. Will absolutely do this again. Would recommend this for anyone regardless of fishing experience. The scenic view is a bonus.
Jason Guilbeau
The perfect guided fishing experience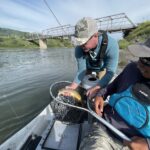 We had an amazing day on the snake River and for two people who haven't fly fished before we couldn't have had a better guide. Within 5 minutes Larry had us throwing a line in and mending well enough to catch some really nice cutthroat trout! While there is plenty of room for improved casting technique, our hats off to Larry for making sure we had a blast "fishing". Looking forward to coming back soon! Thanks Larry!
James Carlyle
A day on the New Fork with Jake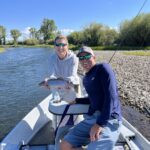 July 14 2023 My wife and I spent the day on the New Fork with Jake. Once again we had a great time. We caught lots good quality fish. Looking forward to coming back in August. You guys are the best.
Brian Kegerreis
A day on the Snake with Jake and Dillon
July 13 2023 My 3 sons and I spent the day on the Snake with Jake and Dillon for my birthday. Had a great time once again. Shane and I were with Dillon he did an excellent job. I would recommend him to anybody. Cody and Brett were with Jake and they had a great time like always. Looking forward to next year.
Brian Kegerreis
Outstanding fishing experience!!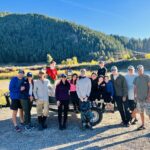 This was an amazing fishing experience! Our guide was Larry and he was so fun, educational and enjoyable to be around. He taught us all to fish (we didn't know how to) and we caught 20 fish on our ride because of his awesome teaching! Our group was very large and each guide handled us very well and accommodated us (ages 8-45). All the other guides were so kind and helpful with the boats and showing us all what to do and how to do it properly! 5 star experience for sure! Would definitely come back!!
Claire Butler, Audrey Butler and Sabine Nicoson
best fishing experience plus the best guide ever!!!
This was the best fishing experience mainly because of how amazing our guide Larry was!! He was so fun and super great to be around. We learned how to fish and caught 20 fish! It was incredible and his teaching was spot on! Chad drove us to our car and he was super nice and taught us things about actors and singers who live there and about bear 399 and her cubs! I truly recommend this for a trip because of the incredible views and guides (especially Larry) we thank them so much for one of the best experiences of our trip the jackson hole!!!!
audrey and claire butler and sabine nicoson
REPUTABLE Guide Service
My daughter and I have fished with the Mangis team twice now and had quality trips with Chad both times! Chad was very patient teaching my adult daughter how to fly fish on the Snake River. We also saw moose for the first time on the last trip plus eagles, eagle nests, ospreys and numerous merganzer ducks. All of this while enduring a rain and hail storm late in our trip. We definitely recommend the Mangis team for your fly fishing trips. Other members of our family made multiple trips with the Mangis team over many years with various guides and always had a positive experience catching both numbers and quality fish! THAT'S WHY WE KEEP COMING BACK!!!
Charles